Every year I have an amazing time with my girlfriends and have a ladies weekend in Macau. This years' ladies weekend revolved around seeing
Taboo
, the new Dragone show produced at The City of Dreams. As a member of Hong Kong's
Vixens
and a big fan of burlesque as an art form I was really excited to see what this amazing production team could do with such a sexy theme. I really believe there is a huge market for adult entertainment in Macau that is being largely ignored. There are fifty showgirl shows in Las Vegas- some great and some tacky. I like that the team from Dragone decided to do something sexy. I think that it was a well conceived idea and was indeed a beautifully designed show. It is very sexy, the dancers cast are beautiful and extremely talented at what they do.
I really loved the costume, hair and makeup design. I thought the show was very seamless in it's design choices with the exception of the African Princess who was beautiful but stood out. I wish they could worked her into the story a little more easily- not just popped her in for the last five minutes. She is very talented at what she does. I would have liked to have seen her for longer on stage.
Let's break it down.
The Good
I think it was smart of the production team to find another use for the Cubix Space. I enjoy performing and producing in nightclubs. It's a way for them to use the space and make more money with it. Good for business and good for the brand.
I liked the publicity and the tickets. They were these neat souvenir magnets that you could take home with you and put on your fridge! The pop-art feel to the show was very attractive and hip. It made you know the show was going to be edgy, female friendly and sexy. All of the three points were hit.
The House Manager and the staff of Cubix were very nice and hospitable!
I loved the choreography, especially the tango inspired number!
The cast is extremely talented. They are very good at what they do. They were all in sync. They were committed. My favorite performer was the pole dancer. I also enjoyed the sword swallower and the pre-show where the chorus members interacted with the audience- I wish there would have been more of it! The singer was extremely talented! She should get a record contract, I would buy her album in a heartbeat.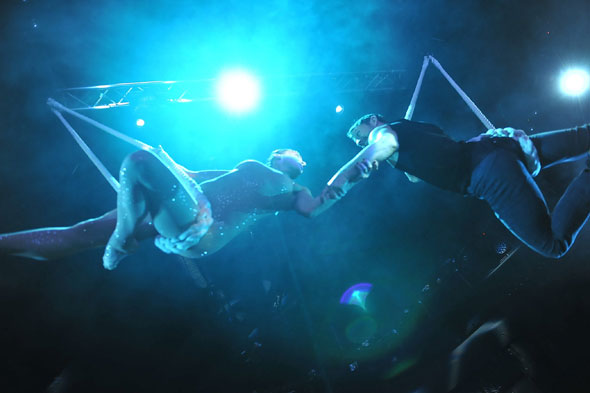 Taboo takes burlesque/cabaret and melds it together with circus!
The Bad
It's really expensive. Tickets are sold by the table. Our table of four tickets was 4,000MOP. That 4,000 MOP included a bottle of champagne and "canapes". The canapes were a bowl of strawberries and one macaroon each. I don't know about you but that is not canapes to me... The show started at 10:05 and ended at 11:00. You got that right, the show is 55 minutes long! Don't get me wrong, I enjoyed myself but it's my personal feeling that if I pay 1,000 dollars for my ticket the show should be longer than an hour. Also, we were given seats that only had partial view of the top platform of the stage. At a thousand dollars a head people should have a full view or people that have partial views should be charged less. I know it's in a club and you're not in a theatre but to me that's just common sense. In combination: the price, the length of the show and the partial view left us saying "That's it?!"
In Conclusion
This show is in limited run at the moment which means that they are pre-viewing it in a way to see if it's going to be a permanent show in Macau. I think there is totally place in Macau for classy, female friendly adult entertainment. This show could be great it just needs a few adjustments! Even if the show had been 15 minutes longer I would been a lot happier. Had they had a little exposition or a narrator to explain the taboos they were exploring I would been happier. The people in this show are very talented artists and you can tell they are working really hard to make this a great show. If you are going to see it I recommend you see it next week (August 8th-11th) when Dita Von Teese is guest starring that way you get a little more bang for you buck!
Grade=C
All shine, no substance...And SUPER expensive!
Go see it with Dita! She's the Mother of Modern of Burlesque! August 8th-11th!
For my updated review on the new and improved Taboo in Macau
go to my new blog!