Everyone knows I'm not too big on the healthy food craze. Raised in the Deep South, I'm a firm believer in everything is better deep fried and covered in butter. Needless to say, I was approached a few weeks ago by a local brand called
Superfood Lab
. They wanted me to check out their products and talk to you guys about them. Kinda like I've done with my cupcake postings and my theatre reviews in the past. But here's the thing... I know you guys are really smart and know my positions on these things.
You can add a boost to your caboose by going green!
I've talked about my nut allergy countless times on this blog. I've talked about my struggles with travels in Asia and the nut allergy. Superfood Lab has pictures of nuts all over the website and I thought there was a bit of conflict of interest in me personally trying this product.
They provided us with one box of the SuperRed Antiox and one box of the SuperGreen to give away. How nice of them! When choosing a company to give your money to, don't you want to work with one that gives back to the community?
I'm not one to look a gift horse in the mouth and I found out the people at Superfood Lab are pretty awesome people. Recently, I was working at the Hecklers for my blog, HKELD. The Hecklers are an annual theatre awards ceremony in Hong Kong that celebrate the best of the best in HK's cultural scene. I had over 200 people attending and tons of raffle prizes going up to help me raise money for our chosen charity of the evening,
Arts with the Disabled Hong Kong
.
Arts with the Disabled Hong Kong is a great organization, if you don't already know. They provide performing and training opportunities for the "handi-capable" in Hong Kong. They also provide art classes for special needs kids. We had great raffle prizes and were able to raise thousands of dollars through the Hecklers for them. A big part in thanks on behalf to our sponsors who donated the prizes to us.
The Superfood Lab philosophy is that healthy habits rejuvenates all of us in various parts of our life. Going green gives you the energy you need and provides you with the nutrients to boost your immune system. It sustains your body as a sustainable temple, builds core immunity and keeps you forever young inside out. It helps you in your pursuit of keeping your eating journey clean.
One of our sponsors was The Superfood Lab! Who instead of asking me to try this product, donated it to the charity raffle. (Which was awesome.) We sold raffle tickets and then raffled the prize off. I contacted the person who won the prize a couple days ago and they said...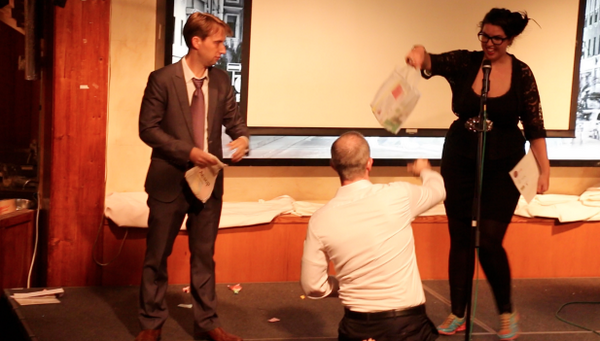 The prize winner!
"The green one tastes pretty good actually... I was shocked because the color really threw me off. Who knew something that green could taste that good?"
Thanks Superfood Lab for all their help with the Hecklers. You can follow them on twitter
here
, and ask them all your questions about healthy eating and adding a little green to your life.